Backup & Disaster Recovery
Core & Edge Network Distribution
Connecting is more than switches and cables. Connecting is expertise, applied. If you are upgrading or designing your campus or branch network, leverage our expertise.
Whether your business is small business, a hospital, or a high-security establishment, Davidson Violette has the expertise to make your project successful.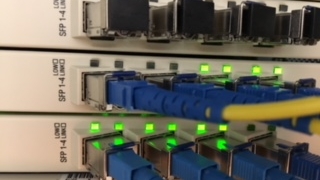 Passive Optical Networking
Passive Optical LAN's use optical splitters, and network terminals to deliver Gigabit Ethernet service over one-strand of singlemode optical cable.
Optical LAN's offer significant advantages over traditional core-edge switching applications.
Copper Ethernet Networking
Today's businesses are embracing mobile and cloud technologies to improve employee productivity and engage with customers. Your business needs an affordable, high-performance and secure wired and wireless infrastructure that can support the growing number of mobile devices and cloud-based applications.
Whether you are upgrading, or designing your network, we have the right switch solutions, plus industry-leading network and security management.
No Time to manage your it systems?
Read about our Managed IT service, where we take care of everything IT. And help is always just a phone call away.